About 911 Restoration of Charleston
Meet the Owner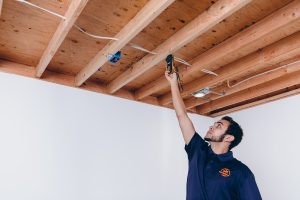 911 Restoration of Charleston is owned and operated by Mark Mummert, a proud resident of Harrisburg, Pennsylvania alongside his son Andrew Mummert, a local Charleston native. 
As a new franchisee owner, Mark currently splits his time between Pennsylvania and Charleston.
On behalf of the entire 911 Restoration national team, he's excited and ready to begin providing quality restoration services to local residents and commercial business owners in Charleston and all surrounding areas. 
Mark and his wife, Pam, have been married for 35 years, raising two amazing sons, ages 31 and 28. 
Both Mark and Pam have been in the carpet cleaning business for 16 years, where they have had experience doing water damage restoration jobs. 
Mark has always had his eye set out on the restoration industry. He knew about several successful independent restoration companies in Pennsylvania and decided to look into the industry. 
With his previous experience in water damage restoration, he knew that disaster restoration would be a profitable enterprise. 
About three years ago, Mark was interested in joining the restoration industry and launching his own business. He gravitated toward owning a franchise after researching and learning more about the mission behind 911 Restoration. He realized that everything seemed to click. 
Mark and Pam's philosophy and customer-facing values became a perfect fit that aligned well with 911 Restoration. 
"We just seemed to click with 911 and everybody I talked to–franchisee wise–from 911 almost mirrored Pam and I, how we started out in business. It was just a good fit," said Mark.
Joining a "People First" Enterprise
Mark's previous experience in water damage restoration makes him a reliable source for all things disaster restoration in Charleston. His friendly attitude, family values, and honesty are what make him a pleasure to work with. 
Money has never been the purpose for owning a franchise. For Mark, it's about "making money the right way" and putting customers first. It's about building a close-knit community and prioritizing the needs of customers and providing affordable, high quality restoration jobs. 
"We never take advantage of people, we look out for the customers' interests before ours a lot of the time," says Mark. "If they want us to do something that's a waste of their money, we won't do it, we'll suggest an alternative even if that means us making less money." 
This attitude is what has distinguished Mark as a strong leader with a commitment to transparency and honest services. At 911 Restoration, we practice this philosophy and strive to maintain constant communication to ensure our customers receive the best services that fit their budget. 
Mark will be happy to answer any questions you have regarding what is covered by your insurance, as well as any other restoration service needs unique to your property. 
"We will not exploit the situation for anybody. If we go into a job, we're not going to overcharge them, we will recommend what is best for their particular job. It doesn't matter about the money," said Mark. 
Mark operates 911 Restoration of Charleston with the same energy and enthusiasm as he's expressed through his other businesses. 
In fact, this franchise has become a labor of love and a family effort. His younger son, Andrew, has already started networking and helps his dad in the business. Just like his father, he believes in the same philosophies and values when it comes to hard work and integrity. As a local Charleston native, Andrew knows the ins and outs of locations throughout the city as well as the people who make up this great city. Father and son work together to give their customers the Fresh Start that they deserve.
Mark's willingness to go above and beyond for his customers is admirable. Building trust with a customer is important to Mark. In fact, he's received countless referrals for the restoration jobs he's done in the past. 
"Every single job I did for a solid year, I got a referral. People trust us," says Mark. 
During his free time, Mark likes to restore jet skis, specifically old or used skis that people have discarded or left at the lake. He's also a huge football and hockey fan, rooting for the Philadelphia Eagles and Philadelphia Flyers. 
A Commitment to Service, Compassion, and a Fresh Start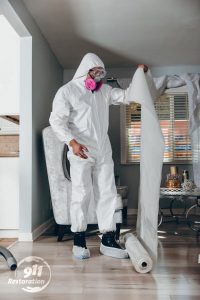 Mark's enthusiasm and compassion towards helping customers navigate a disaster is what makes him the right person for this role as owner of 911 Restoration of Charleston. 
911 Restoration is known as the "Fresh Start" company. It's our chance to help rebuild your property and restore peace of mind after a disaster. 
This mindset is exactly why Mark joined the franchise. It brings him great joy to set high quality standards and ensure that every water damage restoration job delivers results. He and his crew recognize what's at stake for customers. Whether you've experienced a flooded basement, fire damage, ceiling leak, or mold situation — Mark and his team at 911 Restoration of Charleston can provide immediate assistance. 
They'll quickly assess your property needs and make sure that your property is safe from further damage. 911 Restoration of Charleston is available 24/7 to answer your emergency with a guaranteed arrival time of 45 minutes or less. 
You can feel confident knowing your property is in good hands. The staff at 911 Restoration of Charleston is IICRC certified, and every technician is skilled to take on any water damage, mold, or fire restoration project. 
You can count on Mark and his team to help you achieve a Fresh Start after recovering from property damage. If you need restoration services in Charleston or the surrounding area, don't hesitate to call Mark and his team.