Water Damage And Mold Removal in Charleston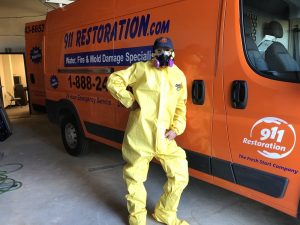 There is no such thing as harmless water damage. Whether it's a major pipe burst, a simple ceiling leak, or major hurricane damage, any amount of water has the power to weaken the surfaces of your home, cause a mold infestation, and rack up costly damages. The good news is, if you need water damage restoration in Charleston, the best possible option is one easy call away. 911 Restoration of Charleston offers emergency flood cleanup as well as comprehensive mold remediation. The staff of IICRC certified technicians are qualified to handle everything from sewage extraction to roof repair, meaning you can count on more than a dry property. You can count on a living or work space that feels as fresh as the day you first moved in.
When you call 911 Restoration, we'll be there. It doesn't matter if you call in the dead of night or at noon on the 4th of July. This water damage restoration crew is at your beck and call whenever you need them. They even guarantee a 45-minute arrival time, so you're not stuck watching the minutes tick by in panic as water continues to seep into the structure of your home or business.
The water damage restoration crew hold themselves to a high standard. From leak detection to mold inspection, they take great pains to ensure they've left no stone unturned. 911 Restoration is licensed, insured, and bonded, and our flood cleanup staff champions total transparency with clear communication and third-party mold testing. They even take the stress of insurance away by offering a free insurance consultation and helping you arrange your paperwork and file a claim.
A water damage incident is exhausting and overwhelming. With 911 Restoration, you can experience the relief of handing that overwhelm over to an expert team. If you need flood cleanup or mold remediation in Charleston, turn to the one restoration contractor that can give you a Fresh Start. Call 911 Restoration today.
Full Service Flood Cleanup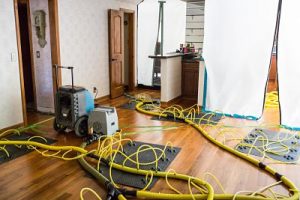 "Water damage restoration" can mean many things. A pipe burst, leaky roof, and damage from a tropical storm all come with their own potential for short- and long-term damage. If you want a real solution, you need to work with a disaster cleanup company that is capable of handling any eventuality.
Every one of 911 Restoration's water damage restoration technicians has been extensively trained. They cover everything, right down to carpet replacement and mold removal. They believe it isn't true water damage restoration if you're left with any evidence of a water disaster. The goal of 911 Restoration is to leave you with a property that's better than new, turning a horrifying pipe burst into an opportunity for a Fresh Start.
When the flood cleanup crew arrive at your property, they set to work removing water, boarding up or repairing the cause of the catastrophe, and drying out the area to prevent mold growth. They conduct structural testing to make sure your property has not been weakened by water damage. If they discover any destruction or concerning weakness, they make the repairs themselves so you don't have to worry about hiring an additional contractor. 
Your dedicated flood cleanup workers also conclude water damage restoration with mold inspection. Mold is one of the most dangerous long-term risks of water damage. The experts at 911 Restoration work hard to make sure you're clear of that potential problem as well.
They think of everything so you don't have to worry about anything. Call 911 Restoration of Charleston and let our experts make your property brand new.
Mold Decontamination Specialists In Charleston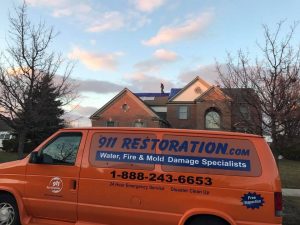 The water damage restoration staff at 911 Restoration have extensive experience with mold inspection in Charleston. With the hot, muggy summers, local properties constantly struggle to fend off infestation. So these mold remediation experts are no strangers to the habits of mold, especially in the wake of water damage.
If you have an infestation but take your time pursuing mold remediation, you put both your property and yourself at risk. Mold decomposes the organic materials that make up the structure of your home or business. And if you have a toxigenic infestation, you're at risk of inhaling mycotoxins that can cause a wide range of health problems. This is why the flood cleanup crew insists on including mold inspection and mold removal in every water damage restoration job. Not only is it essential to catch a colony before it spreads, but it's also important that mold remediation is handled by true experts. The household cleaning supplies you use to clean mildew are far less successful when it comes to mold removal. Even if it looks like you've scrubbed away the infestation, it takes a certified mold remediation expert to be sure removal is complete and the structure is dried to prevent repeat growth.
The potential damages following a water incident are extensive. But with 911 Restoration of Charleston, you can count on a total recovery without breaking the bank. For the best in restoration after a pipe burst or water disaster, give us a call.
Servicing the cities of Adams Run, Awendaw, Aynor, Beaufort County, Berkeley County, Bethera, Bonneau, Charleston, Charleston AFB, Charleston County, Cross, Dorchester, Dorchester County, Edisto Island, Galivants Ferry, Georgetown, Goose Creek, Green Sea, Grover, Hanahan, Hollywood, Huger, Isle Of Palms, Jamestown, Johns Island, Ladson, Little River, Longs, Loris, Madison, Mc Clellanville, Moncks Corner, Mount Pleasant, Murrells Inlet, Myrtle Beach, Nichols, North Charleston, North Myrtle Beach, Pawleys Island, Pineville, Pinopolis, Ravenel, Reevesville, Ridgeville, Russellville, Saint George, Saint Stephen, Seabrook, Sullivans Island, Summerville, Wadmalaw Island, and surrounding areas.