Water Damage Restoration in Charleston
South Carolina has significant precipitation throughout the year, putting structures in Charleston, Myrtle Beach, Summerville, and the surrounding areas at risk of incurring water damage. The technicians at 911 Restoration locations understand these weather patterns and how tropical cyclones, hurricanes, and tornadoes can influence your home or business. They promise to be at your property within 45 minutes of receiving your call, no matter what time you reach out. The office is open 24/7/365, making it possible for customers to call us the moment they need water damage restoration in Charleston. Technicians will conduct free visual inspections for property owners as soon as they arrive on the scene.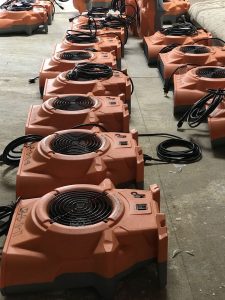 If you are currently experiencing a water-based disaster, repair techs will perform same-day, flood cleanup, and drying services. There is no time to waste when it comes to water emergencies.
Technicians will focus as much on water damage repair in Charleston as they will on mold decontamination since moisture and mold go hand-in-hand.
When you hire 911 Restoration of Charleston, you will get the premium, full-service dedication of an all-in-one, restoration company that makes you the top priority.
Our mission statement is to bring property owners a Fresh Start after a disaster strikes. A flood or significant leak leads to the chance for something new. Call our technicians when you need assistance, and they will work diligently to give you a Fresh Start today!
Receive Immediate Flood Cleanup In Charleston After A Tropical Storm
The hot, humid conditions in Charleston create tropical cyclones and thunderstorms in the summer. Extratropical storms can occur in the fall, winter, and spring. Spring and early fall can generate tornadoes.
Water damage restoration may be needed after storms of this magnitude. Ceiling leaks, basement floods, and commercial water damage all require the skills of a professional, water mitigation service provider.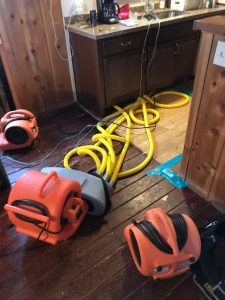 911 Restoration of Charleston understands how crucial it is to receive a fast response from a certified crew. When repair techs arrive, they will immediately get to work assessing the situation and coming up with a restoration strategy.
The powerful winds and torrential rain caused by tropical cyclones are responsible for roof damage, ceiling leaks, and foundation issues. Sometimes hurricanes and tornadoes can be strong enough to rip off roof shingles or even a garage door.
Getting the property as dry as possible is essential to the flood cleanup process since lingering moisture can lead to mold infestation. The high humidity rates in Charleston can accelerate mold growth. Call 911 mold restoration at (843) 872-9135 and learn how we can help.
As well as administering the necessary water damage restoration and mold removal services, repair techs will take care of any property damage. By repairing cracks in your roof and foundation, we can prevent future instances of water damage. 
Call our water mitigation company as soon as you need emergency leak repairs or flood cleanup in Charleston. Technicians will provide you with the comprehensive services you need to make a full recovery.
Restoration Contractors, You Can Trust To Handle Every Aspect Of A Water Damage Job
 When customers call us in need of water damage restoration, they often need more than just restoration services. Many other things need to be taken care of, such as filing your insurance claim.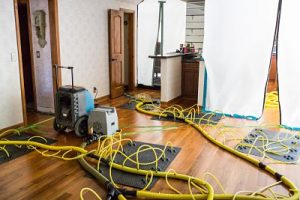 Many customers have never had to file an insurance claim for water cleanup services. Our staff will provide customers with free insurance consultations so you get coverage. 
By having a professional go over your insurance policy, you can determine what leak and flood repairs your plan covers. Coverage may not be available for all flooding events, such as damage created by an overflowing body of water or property owner negligence.
Along with renovating your property, technicians will also assist you with taking inventory of the property damage to create an itemized list of your losses.
Not all insurance policies cover all water damage circumstances. By submitting a detailed list of your damages, you will have the best chance of receiving optimal financial aid.
Quality Services in all Restoration
The technicians want to keep your belongings protected during the water damage cleanup procedures. If we need to remove your furniture and other items from the premises for restoration work, we will facilitate the pack-out and storage services. Call us at (843) 872-9135 and see how we can help you.
With 911 Restoration of Charleston on the job, you will know you are in good hands. We work with IICRC-certified technicians who have proven to the Institute of Inspection, Cleaning, and Restoration that they have reached the highest standards in the industry. Call us at (843) 872-9135 and please allow us to offer you a free visual inspection.
911 Restoration of Charleston will handle everything, so you can focus on the more essential things while we make all the repairs. If your home or business is affected by a disaster, call the team you can trust to conduct the water damage restoration service in Charleston that will get you on the path to a Fresh Start!
Serving the communities of Awendaw, Aynor, Bethera, Charleston, Charleston County, Cross, Dorchester, Edisto Island, Goose Creek, Green Sea, Grover, Hanahan, Hollywood, Johns Island, Ladson, Madison, Moncks Corner, Mount Pleasant, North Charleston, North Myrtle Beach, Ridgeville, Saint George, Sullivans Island, Summerville and surrounding areas.