Mold Removal in Charleston County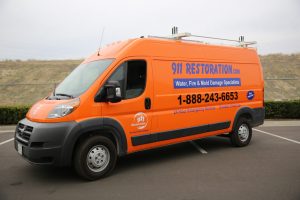 Charleston County is a beautiful place to live and work, but it's not without its drawbacks. Local properties are constantly vulnerable to mold contamination, due to frequent water damage caused by tropical storms, hurricanes, and the hot, muggy climate. Fortunately, none of these local properties are stuck confronting the unpleasantness of mold contamination alone. The mold remediation crew at 911 Restoration of Charleston are standing by, ready to serve their neighbors with comprehensive mold cleanup.
These IICRC certified mold experts are prepared to handle every aspect of mold remediation, including mold inspection, mold removal, and damage repairs. They hold their own work to the highest standards, recognizing that you are more than a customer. You are a neighbor in need of help. You can be sure your dedicated mold removal crew will take all steps necessary to eliminate your infestation and leave your home or business in better-than-new condition.
911 Restoration is licensed, insured, bonded, and backed by a nationwide reputation for excellent, effective mold decontamination. The locally owned and operated Charleston branch has handled mold remediation in Charleston County for quite some time, so you can be sure you're in good hands with these experts. 
Above all, the mold cleanup staff works diligently to give you peace of mind. They communicate clearly every step of the way, work with a third-party laboratory for total transparency, guard your property against future growth, and repair any damage left by the mold. You are in good hands with 911 Restoration, and you'll see the proof from the moment your mold cleanup experts arrive to the moment they say goodbye.
Mold is nasty and unsightly, but getting rid of it is as easy dialing one number. Call 911 Restoration of Charleston today and get ready to put mold in the rearview mirror.
Certified Mold Inspection In Charleston County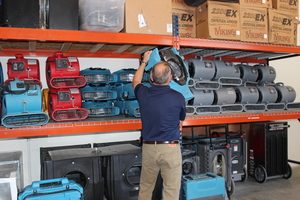 Any genuinely effective mold decontamination process must begin with a mold inspection from a certified professional.
You may feel confident that you've successfully identified mold in your home or business. You may even feel like you've gotten results from a home remedy. However, you have a right to know that home remedies rarely eliminate the infestation completely. And, because mold spores travel easily throughout a property, if you have one colony in plain sight, you may very well have others hidden in your walls and down your pipes.
The mold inspection crew at 911 Restoration know the behavior of mold inside and out. They know how mold is likely to spread, where it finds the most welcoming home, and how to recognize the more subtle signs of a hidden colony. These professionals will find any trace of mold in your home or business. And if their mold inspection reveals a colony, they deliver a sample to a third-party laboratory for testing.
Once they know exactly which variety of mold they're dealing with, they communicate with you about their mold removal strategy. They handle mold decontamination with the greatest care, especially if your infestation is toxigenic. Dangerous varieties such as black mold can release mycotoxins into the air you breathe when they are disrupted. Your trusted mold remediation crew knows how to handle these more hazardous growths to ensure your safety.
While mold is a quiet invader, it comes with significant risk to both your property and your wellness. For your own sake, seek out a mold removal contractor who offers the most thorough and complete mold remediation possible. Choose 911 Restoration of Charleston.
Cleaning Mold From Water Damage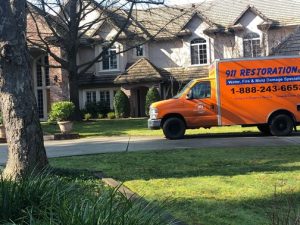 The need for mold removal in Charleston County is constant. The wet climate leads to regular water damage, and where there's water damage, mold is almost certain to follow.
No matter how well you maintain your home or business, you can't keep mold spores out of the air. They are always there. Then, when a water disaster strikes, those spores only need 24 hours on a damp surface to create a full-blown colony. 
If you've recently experienced water damage in your residential or commercial property, it's in your best interest to get a mold inspection and mold remediation as soon as possible. This is especially necessary if water had an ample amount of time to seep into the structure of your property. Even concrete can absorb a significant amount of water, eventually allowing the water to resurface and make the concrete floor hospitable to mold.
When the mold removal staff at 911 Restoration complete mold decontamination in your property, they follow up with structural dehumidifying. This extra step fully dries out the area where mold grew, making it far less likely to show up again. 
The mold cleanup crew also repair damage from mold. This could mean tearing out contaminated carpet, replacing destroyed floorboards, repairing drywall, or any other surface repair need. They mean it when they say they want to give you a Fresh Start.
Remember how your property felt when it was brand new, without a single blemish or weakness? It can be that way again. All you have to do is call 911 Restoration of Charleston for comprehensive mold remediation.
Servicing the cities of Adams Run, Awendaw, Aynor, Beaufort County, Berkeley County, Bethera, Bonneau, Charleston, Charleston AFB, Charleston County, Cross, Dorchester, Dorchester County, Edisto Island, Galivants Ferry, Georgetown, Goose Creek, Green Sea, Grover, Hanahan, Hollywood, Huger, Isle Of Palms, Jamestown, Johns Island, Ladson, Little River, Longs, Loris, Madison, Mc Clellanville, Moncks Corner, Mount Pleasant, Murrells Inlet, Myrtle Beach, Nichols, North Charleston, North Myrtle Beach, Pawleys Island, Pineville, Pinopolis, Ravenel, Reevesville, Ridgeville, Russellville, Saint George, Saint Stephen, Seabrook, Sullivans Island, Summerville, Wadmalaw Island, and surrounding areas.