Water Damage and Mold Removal in Ridgeville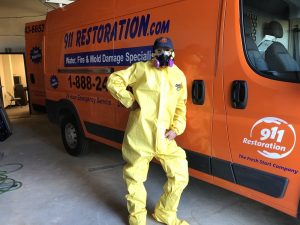 Water damage can hit at any time. Pipe bursts don't care about your work schedule. Sewage backups don't wait until it's convenient to close the office. And in the wet climate of Ridgeville, tropical storms won't wait for you to pencil them in. When a water disaster hits, it hits hard. And you need the kind of emergency response 911 Restoration guarantees.
When you call 911 Restoration of Charleston, you can count on an immediate response, no matter when you call. In the dead of night, on weekends, and on holidays, our flood cleanup staff is standing by to take your call. And once your call comes in, the water damage restoration crew is on their feet and rushing to the scene. That's not just lip service. We guarantee help will be at your door in 45 minutes or less.
The flood cleanup professionals aren't just fast; they're also highly skilled. With IICRC certification and extensive training in water damage restoration, property repair, and mold remediation, you can rest assured they're equipped to handle your disaster. If you need roof repair, they're on it. If you need a mold inspection, they've got it covered. Drywall rotted out? They'll have it replaced before the job is done.
They even offer a free insurance consultation so you can go into the water damage restoration process with clear eyes. From water extraction to mold remediation, they explain exactly which services are covered by your insurance provider. They also assist with your paperwork and claim, ensuring that you get the benefits to which you are entitled.
Water damage is a living nightmare for a property owner, but with the flood cleanup experts at 911 Restoration, you'll find recovery is quicker than you ever imagined. In fact, they'll leave you with a property that feels brand new.
Don't distress. Call 911 Restoration of Charleston for a Fresh Start.
Commercial And Residential Water Damage Repair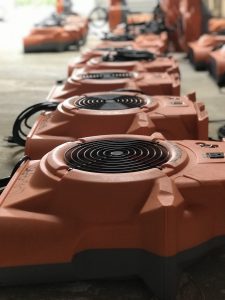 Just as water damage can occur at any time, it can also happen anywhere. Whether you own a home, a condo, an office building, a storefront, or any other property, 911 Restoration of Charleston is equipped to be your ally in water damage restoration.
The flood cleanup professionals approach every job with compassion. They put themselves in your shoes, understanding how water damage disrupts your home life or causes a threat to your bottom line. If you need emergency water damage restoration in Ridgeville or the nearby communities, 911 Restoration of Charleston promises an emergency response.
Water damage restoration experts arrive at your property within 45 minutes and immediately set to work on whichever need is most urgent. Whether you need emergency boarding to stop the cause of the catastrophe or you need emergency sewage extraction, this team is on it. They even pack and store your belongings to keep them out of harm's way.
Once the water itself has been removed. The flood cleanup technicians bring in professional fans to dry out the structure. If necessary, they sanitize the area, and they repair any damages caused by your pipe burst or other water incident. It doesn't matter if you need carpet removal, sheetrock replacement, or drywall repair. Your friendly water damage restoration workers get the job done. They even follow up with a mold inspection and, if necessary, mold removal.
No matter what your catastrophe is and no matter what your repair needs are, you can count on 911 Restoration of Charleston. Call now for comprehensive water damage restoration and mold removal.
Certified Mold Remediation In Ridgeville
Every water damage incident comes with a high risk of mold. This is especially true for pipe bursts and property floods, when water disappears into the darkest corners of your home or business. Walls, ceilings, carpet, and even concrete soak moisture up like a sponge. Once they do, it only takes 24 hours for mold spores in the air to land and start a thriving mold colony.
This is why your flood cleanup technicians are also certified in mold inspection and mold removal. No water damage restoration job is ever truly complete until every step has been taken to eliminate every trace of damage…and that includes mold remediation. Our mold decontamination experts inspect every last inch of the affected area to ensure there is no mold growth anywhere. If mold inspection leads to a discovered colony, the mold removal crew handles mold remediation with care and caution. You can be sure that by the time they leave, they will have eliminated the infestation and repaired any damages mold might have caused.
Water damage can be lasting…but that's only if you don't call 911 Restoration. Our flood cleanup and mold inspection specialists work diligently to be sure your property is left in its best-ever condition. Want to feel like today's water disaster never happened? Contact 911 Restoration of Charleston for caring, comprehensive flood cleanup in Ridgeville.
Servicing the cities of Adams Run, Awendaw, Aynor, Beaufort County, Berkeley County, Bethera, Bonneau, Charleston, Charleston AFB, Charleston County, Cross, Dorchester, Dorchester County, Edisto Island, Galivants Ferry, Georgetown, Goose Creek, Green Sea, Grover, Hanahan, Hollywood, Huger, Isle Of Palms, Jamestown, Johns Island, Ladson, Little River, Longs, Loris, Madison, Mc Clellanville, Moncks Corner, Mount Pleasant, Murrells Inlet, Myrtle Beach, Nichols, North Charleston, North Myrtle Beach, Pawleys Island, Pineville, Pinopolis, Ravenel, Reevesville, Ridgeville, Russellville, Saint George, Saint Stephen, Seabrook, Sullivans Island, Summerville, Wadmalaw Island, and surrounding areas.