Water Damage And Mold Removal in Saint George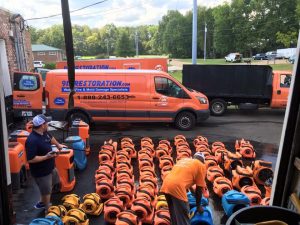 There is no telling when a pipe burst, tropical storm, or sewage backup will strike. But when it does, you can't afford to wait hours on end for help to arrive. If you need water damage restoration or emergency flood cleanup in Saint George, 911 Restoration of Charleston is here for you. Our water damage restoration technicians are available to you 24 hours a day, 365 days a year. When you call them, you can expect help to be at your door in 45 minutes or less. 
911 Restoration is staffed by IICRC certified water damage restoration and mold remediation professionals. Every member of our staff is highly trained to deal with all aspects of water damage, from emergency water extraction to damage repair and mold inspection. They emphasize expert care and comprehensive service. They don't just want to dry out your property. They want to fully restore your space, giving your property a truly Fresh Start.
Your peace of mind is central to everything your flood cleanup crew does. They know how overwhelming it is to see the property you've worked so hard to maintain suddenly invaded by water. You worry about your floorboards rotting, your ceiling caving in, mold creeping into unseen spaces within your walls. Because they understand this, the water damage restoration workers make every effort to alleviate your fears with urgent response times, clear communication, and genuine expertise. They even offer a free insurance consultation, walking you through your insurance plan so you understand exactly what coverage you are entitled to. They also help with loss itemization and file your claim for you.
Wouldn't it feel good to let all these worries go? With 911 Restoration of Charleston, you can. Call today and let an expert team deliver immediate peace of mind.
Emergency Water Damage Restoration In Saint George
When it comes to flood cleanup, time is of the essence. The longer it takes to get water off your property, the worse your damages will be. The water damage restoration crew at 911 Restoration are well-aware how urgent your situation is. This is why they stick to their guaranteed arrival time of 45 minutes and work swiftly to minimize your damages.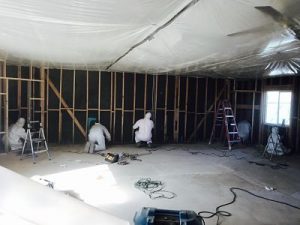 Wondering which emergency services we offer? The short answer is: all of them. This includes emergency boarding up, storm repair, leak detection, roof repair, and water and sewage extraction. From pipe bursts to hurricanes to washer machine floods, the water damage restoration crew is more than capable of conquering your disaster in a timely manner.
You can also count on 911 Restoration no matter what type of property you own. This crew manages both commercial and residential water damage repair. 
And what does water damage repair entail? Our flood cleanup services include everything necessary to make your property feel even better than before. Structural drying and dehumidifying, sanitation, damage repair…they do it all. They even conclude the water damage restoration process with a thorough mold inspection and mold decontamination.
It's okay if you don't see the light at the end of the tunnel. Just know that at 911 Restoration, we do see it…and our expert technicians know how to get there. Experience the relief of compassionate, expert flood cleanup and mold remediation. Call 911 Restoration of Charleston.
Mold Inspection And Mold Removal
If you've had a water damage incident, there's a decent chance you'll have a mold infestation as well. This is especially true in an area like Saint George, where moisture is constantly in the air and the hot, muggy summers create a welcome environment for mold.
Fortunately, the water damage restoration specialist at 911 Restoration recognize that mold remediation is an essential part of flood cleanup. This is why every technician is also an expert in mold inspection and mold removal. Before declaring your water damage restoration job complete, your technicians conduct a thorough mold inspection. If they discover any growth, they follow up with mold remediation and structural drying to prevent future infestation.
Mold removal is important because the long-term effects of mold can be devastating to both your property and your health. If an infestation is allowed to thrive without prompt mold remediation, the colony will eat away at your walls, ceiling, and flooring. Even worse, if you have a toxigenic growth in your home or business, you're at risk of breathing in harmful mycotoxins that can wreak havoc on your health. The mold removal professionals make every effort to prevent these risks. They won't consider your water damage restoration job complete until they know you and your property are truly safe.
If you need flood cleanup or mold removal in Saint George, choose the restoration contractor that truly cares about your well-being. Contact 911 Restoration of Charleston for emergency service and compassionate care.
Servicing the cities of Adams Run, Awendaw, Aynor, Beaufort County, Berkeley County, Bethera, Bonneau, Charleston, Charleston AFB, Charleston County, Cross, Dorchester, Dorchester County, Edisto Island, Galivants Ferry, Georgetown, Goose Creek, Green Sea, Grover, Hanahan, Hollywood, Huger, Isle Of Palms, Jamestown, Johns Island, Ladson, Little River, Longs, Loris, Madison, Mc Clellanville, Moncks Corner, Mount Pleasant, Murrells Inlet, Myrtle Beach, Nichols, North Charleston, North Myrtle Beach, Pawleys Island, Pineville, Pinopolis, Ravenel, Reevesville, Ridgeville, Russellville, Saint George, Saint Stephen, Seabrook, Sullivans Island, Summerville, Wadmalaw Island, and surrounding areas.