Water Damage And Mold Removal in Charleston County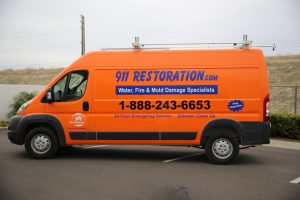 Have you been struck by an out-of-nowhere pipe burst or other water disaster? 911 Restoration of Charleston is here to help…immediately. Our flood cleanup technicians are available at a moment's notice, 24/7, every day of the year. Call them even in the dead of night and expect an expert water damage restoration crew at your door within 45 minutes. That's not an empty promise. That's our guarantee.
This staff has been handling water damage restoration in Charleston County for a long time, and they're prepared for every situation this unique climate throws their way. Your tropical storm or hurricane damage is not too much. Your mold remediation needs are not too small. Your sewage backup, pipe burst, mysterious wall leak…whatever it is, this crew removes the water, removes the cause, and repairs everything from your roof to your sheetrock. They work fast to get back on your feet and back to the life you love.
Every water damage restoration worker has been extensively trained and holds IICRC certification. 911 Restoration of Charleston is licensed, insured, bonded, and backed by the resources of a nationwide restoration company. We are also locally owned and operated, so you can be sure you'll be treated as a neighbor more than as a customer.
The water damage restoration staff pride themselves on their compassionate customer care. This includes total transparency, emergency response, and a free insurance consultation to clarify exactly how much you can expect to get paid for water damage from your insurance. A staff member will even assist with inventory and loss itemization, file your claim for you, and bill your provider directly so you don't have to give it a second thought.
There is never a convenient time for a pipe burst or storm damage. At least with 911 Restoration in your corner, you have a fast and reliable solution. Contact us today for the service you deserve.
Emergency Flood Repair In Charleston County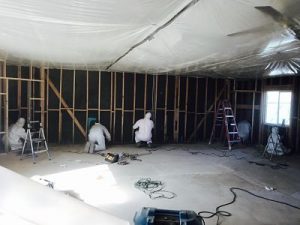 There is no time to waste when water floods your home or business. The longer water lingers, the greater your damages will be. That's why you need to call for help fast, and call the one company that guarantees an immediate response: 911 Restoration of Charleston.
The flood damage cleanup crew arrives at your residential or commercial property in 45 minutes or less. Once they arrive, they snap into action according to the needs of your unique situation. If you need emergency storm repair, boarding up, roof repair, leak detection, or water extraction, they're on it. They pack out and store your at-risk belongings to prevent additional unnecessary damages. 
Once all water has been removed from your property, the flood cleanup staff bring in professional fans to dry out the area and dehumidify the structure. This is done to help prevent mold growth. That said, mold does develop quickly in a water damage situation. Sometimes an infestation is unavoidable. For this reason, your water damage restoration technicians will also conduct a full mold inspection and any necessary mold removal.
The flood cleanup professionals hope to leave your property feeling like your pipe burst or leaky ceiling never happened. This means full restoration, including repairs for damage caused to your roof, drywall, carpet, or any other surface in your home or business.
You may be looking at a devastating disaster, but your dedicated flood cleanup crew chooses to treat your water damage as an opportunity to start again, better than ever. For mold remediation and flood cleanup in Charleston County, call 911 Restoration of Charleston. We'll give you a Fresh Start.
Mold Remediation Following Water Damage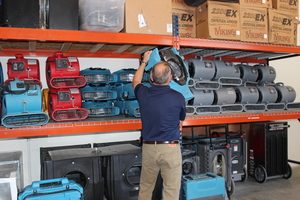 Mold spores are constantly in the air around you, and if you've had water damage, odds are high that those mold spores have found a happy home on any available damp surface. This is why no water damage restoration process is truly comprehensive without mold inspection and mold removal.
The flood cleanup crew at 911 Restoration are certified in mold decontamination. They know exactly where to look for growth during a mold inspection. Just as important, they know how to handle mold remediation depending on which species of mold they find. There are more than 100,000 varieties of mold, and some are toxigenic, requiring special care and caution during the mold removal process. 
Once the mold decontamination team gets rid of the infestation, they conclude mold remediation with structural dehumidifying. This is to help protect your property against a repeat infestation. They also repair any surfaces that may have been destroyed by the colony.
There is one company that should be your go-to for water damage restoration and mold removal in Charleston County. That company is 911 Restoration. From "hello" to "goodbye", these compassionate technicians work diligently with your best interests in mind.
For the best in service and the best for your property, call 911 Restoration of Charleston today.
Servicing the cities of Adams Run, Awendaw, Aynor, Beaufort County, Berkeley County, Bethera, Bonneau, Charleston, Charleston AFB, Charleston County, Cross, Dorchester, Dorchester County, Edisto Island, Galivants Ferry, Georgetown, Goose Creek, Green Sea, Grover, Hanahan, Hollywood, Huger, Isle Of Palms, Jamestown, Johns Island, Ladson, Little River, Longs, Loris, Madison, Mc Clellanville, Moncks Corner, Mount Pleasant, Murrells Inlet, Myrtle Beach, Nichols, North Charleston, North Myrtle Beach, Pawleys Island, Pineville, Pinopolis, Ravenel, Reevesville, Ridgeville, Russellville, Saint George, Saint Stephen, Seabrook, Sullivans Island, Summerville, Wadmalaw Island, and surrounding areas.