Water Damage and Mold Removal Goose Creek
People living in South Carolina can rest assured when they a home leak know that they have access to the water damage Goose Creek crews at 911 Restoration of Charleston around the clock.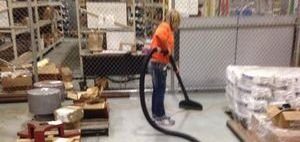 If you find yourself dealing with a massive leak or a basement flood, you can call our mold removal Goose Creek units literally any time, because we are available 24/7/365 to assist you.
With our offices opened all year round, we always have service agents on hand, standing by to assist you. They make sure to get our water damage Goose Creek techs to your household within 45 minutes of receiving your emergency call.
Our mold removal Goose Creek experts know the importance of getting water cleaned up quickly, not only to prevent permanent damage, but to stop mold spores from growing into a full infestation.
This is why when you call our water damage Goose Creek professionals, you can be sure you are getting the help of capable workers who are trained to remediate the following issues:
Toilet overflows

Pipe bursts

Washer hose bursts

Mold infestations

Water heater leaks

Fire sprinkler malfunctions

Flooded basements
Call us when you experience any type of water related emergency and our mold removal Goose Creek team will be at your doorstep before you know it, ready to begin clean up procedures.
We Are Your Go-To Experts Fo Everything Water And Mold Related
All of our water damage Goose Creek staff are licensed, bonded and insured for your protection, so you never have to worry about negligence when we are on the job.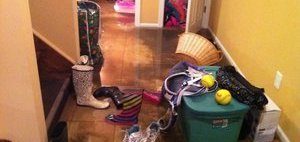 We want to ensure your wellbeing during the home restoration process, so our mold removal Goose Creek technicians provide thorough same day services that include a free visual mold inspection to make sure that we are aware of everything.
Even if you don't see mold growing in your home, you may be feeling the physical effects of it, which may include breathing difficulties, headaches, itchy eyes, sneezing and coughing.
It is important to us that everyone involved in the flood and leak restoration process is safe, so when you hire our water damage Goose Creek agents we will take over everything to get your home on the path to becoming a clean, safe environment again.
Call our offices when you need help with a water disaster and we will send our mold removal Goose Creek specialists to your home to determined the source of the problem and take immediate action.
Our Water Damage Staff Will Guide You Through the Insurance Process
Our water damage Goose Creek pros have had many years of experience working with insurance companies for all different issues, and getting our clients the coverage they deserve is one of our top priorities.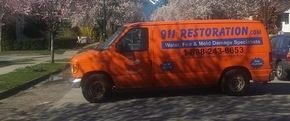 When you work with us you can be confident knowing that we have your back during every part of the insurance claim process, and we will file your insurance claim for you to make sure you get the best coverage you are entitled to.
One of the reasons why we're labeled the best in the business is because, on top of consistently offering excellent water damage repair, our mold removal Goose Creek crew also provide you with amazing customer service.
We always place a huge emphasis on the customer's wellbeing and our water damage Goose Creek unit will do everything we can to make sure you are satisfied with every step of this process.
Call our water damage Goose Creek techs at 911 Restoration of Charleston when you experience any type of plumbing issues or other cause of water damage and we will show you what a fresh start looks like.