Water Damage in Hollywood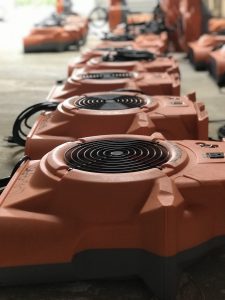 Property owners in Hollywood are not strangers to the frustrations of water damage. Aside from run-of-the-mill pipe bursts and washer machine flooding, the local climate does little to help home and business owners keep their properties dry. Tropical storms, hurricanes, and floods create a frequent need for flood cleanup in Hollywood. Fortunately, local property owners always have 911 Restoration of Charleston to turn to.
You can reach 911 Restoration of Charleston any time, day or night, any day of the year. Our water damage restoration crew is always standing by, and they vow to be at your property within 45 minutes of your call. They understand that there is no time to lose when it comes to water damage. The quicker they act, the better your chances of preventing costly damages and the future need for mold inspection and mold remediation. Your dedicated flood cleanup crew recognizes this, and they respond with the same urgency they would wish for if they were in your shoes.
911 Restoration is licensed, insured, and bonded, with a staff of water damage restoration experts who are highly trained and IICRC certified. They have the know-how to manage everything from water extraction to damage repairs to mold decontamination. No matter how extensive your water disaster is, these professionals have you covered.
Worried about the cost of flood damage? A friendly water damage restoration staff member will help you understand your options with a free insurance consultation. They help you make sense of your insurance coverage, clarifying which services are covered by your provider. 
From your first call to the moment your flood cleanup crew says goodbye, 911 Restoration thinks of everything. There's no need to panic. Call us today and let us take every last worry away.
Comprehensive Water Damage Restoration In Hollywood
Do you have a slow wall leak? A sewage backup? A pipe burst? Storm damage?
Water damage can take many forms, and "water damage restoration" could mean a variety of things depending on your specific needs. Rest assured, when you call 911 Restoration, you call a flood cleanup crew who are quick on their feet and ready to handle any type of water disaster.
When the water damage restoration technicians arrive at your property, they offer a free visual inspection for property owners. They communicate clearly about the type of damage you're looking at and which services you are likely to need. If you have any belongings sitting in harm's way, they offer emergency packing out and storing to keep those items safe during restoration. They also provide emergency roof repair, storm repair, boarding up, and leak detection.
In the case of flood cleanup or sewage removal, they conduct fast and thorough water extraction and sanitation. They bring in professional fans to dry out the water damage. This is an important step to prevent mold development, sparing you the cost of mold remediation. The water damage restoration technicians are also capable of handling any repairs you might need. If you need a roof patched, contaminated carpet removed, or drywall replaced, they're ready and qualified.
With so many possible needs to consider, water damage restoration can send your head spinning. Let your flood cleanup experts do the spinning for you. Your peace of mind is their first and greatest goal, so you can depend on them to do everything it takes to make your property better than new. 
Let yourself breathe easy. Call 911 Restoration of Charleston.
Cleaning Mold From Water Damage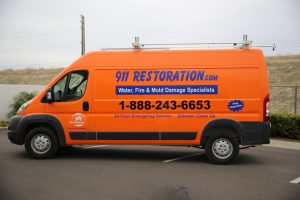 Sometimes even an emergency response isn't enough to hold off a mold infestation following a water disaster. Mold spores only need 24 hours to create a mold colony on a damp surface, putting you at great risk of an infestation if your pipe burst damage is extensive or you've had a slow, ongoing leak.
The water damage restoration experts are also trained in mold inspection and mold removal. They include mold remediation as part of flood cleanup, recognizing that your property is not truly recovered from water damage if it contains a mold infestation. If the mold inspection leads to a discovery of mold, they bring in professional tools to handle mold remediation thoroughly and safely. Because some species of mold carry health risks, the mold removal specialists take great care to get rid of the colony without spreading an excess of spores and mycotoxins throughout your property.
After mold inspection and mold removal, your friendly experts dehumidify the structure where mold was found and repair any damages the colony may have caused. It's important to always include mold remediation in water damage restoration, as mold will eat away at the structures of your home or business if it is allowed to linger and thrive.
Without a doubt, a pipe burst or other water disaster can cause tremendous stress for any property owner. The resulting damages can be extensive and costly. The good news is that you can count on 911 Restoration of Charleston for thorough and compassionate flood cleanup and mold removal in Hollywood. In fact, our water damage restoration and mold remediation experts will leave your property in better-than-new condition.
Relief from today's catastrophe is closer than you think. Call 911 Restoration of Charleston for a Fresh Start.
Servicing the cities of Adams Run, Awendaw, Aynor, Beaufort County, Berkeley County, Bethera, Bonneau, Charleston, Charleston AFB, Charleston County, Cross, Dorchester, Dorchester County, Edisto Island, Galivants Ferry, Georgetown, Goose Creek, Green Sea, Grover, Hanahan, Hollywood, Huger, Isle Of Palms, Jamestown, Johns Island, Ladson, Little River, Longs, Loris, Madison, Mc Clellanville, Moncks Corner, Mount Pleasant, Murrells Inlet, Myrtle Beach, Nichols, North Charleston, North Myrtle Beach, Pawleys Island, Pineville, Pinopolis, Ravenel, Reevesville, Ridgeville, Russellville, Saint George, Saint Stephen, Seabrook, Sullivans Island, Summerville, Wadmalaw Island, and surrounding areas.