Water Damage in Ladson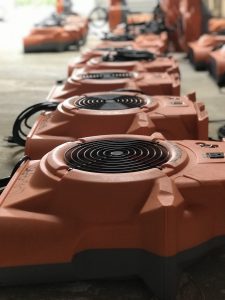 When a pipe bursts in your home at 2:00 a.m., you can't afford to wait until morning for water extraction. If there's a sewage backup in your business at 9:00 p.m., that's not a problem to put off until morning. Water can cause serious damage, no matter how it enters your property. If you hope to avoid costly destruction and get your property back in prime condition soon, you need emergency water damage restoration. And you can find it with 911 Restoration of Charleston.
The flood cleanup crew of 911 Restoration are available 24/7/365. It doesn't matter what time you call, they'll be there to offer emergency relief from a pipe burst or other catastrophe in 45 minutes or less. That's our guaranteed arrival time.
911 Restoration has extensive experience handling water damage restoration and mold remediation in Ladson and beyond. Between the wet, hot summers and frequent storms, water damage and mold contamination are constants in the local area.  Every one of the water damage restoration technicians are highly trained and IICRC certified. The company itself is licensed, insured, and bonded. And you can rest assured that the entire flood cleanup staff works towards one common goal: your peace of mind.
Our water damage restoration services include anything you could possibly need, including emergency roof repair, water extraction, structural drying, mold inspection, and mold removal. The flood cleanup crew even repairs any damage caused by your water disaster, whether it's a destroyed carpet or ruined drywall.
You've put your heart and soul into your property. Let us help you maintain the refuge you've created with full-service water damage restoration. Whatever you need, whenever you need it, we'll be here. Call 911 Restoration of Charleston today.
Emergency Flood Cleanup In Ladson
The longer water lingers on your property, the worse your damages will be. Floorboard rot and warp. Carpet grows moldy. Even a minor wall leak becomes an easy breeding ground for mold, creating the need for mold remediation services later on. When you need water damage restoration, you need it now, and you deserve a restoration contractor who honors that urgency.
The flood cleanup crew at 911 Restoration responds to your water damage emergency as if it were their own. They rush to the scene within 45 minutes of your call and immediately set to work on whatever emergency service you need. Boarding up? Roof repair? Sewage cleanup? Packing out and storing at-risk belongings? They do it all, and they do it quickly to minimize your damage.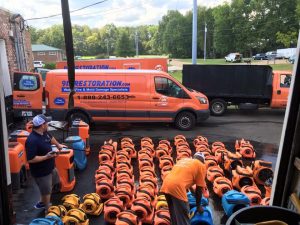 In the case of a pipe burst, sewage, or property flood, they extract all standing water quickly and follow up with structural drying. Unfortunately, mold frequently forms in the aftermath of water damage. Structural drying helps prevent a full-blown infestation. Nevertheless, sometimes mold spores land on damp surfaces and start colonies before drying is complete. For this reason, your flood cleanup professionals will also conduct a thorough mold inspection. Mold can be especially sneaky, so the mold inspection includes hidden-away areas.
If mold is discovered on your property, there is nothing to worry about. The water damage restoration experts are also trained in mold removal. They have all the tools and knowledge necessary to conduct safe mold remediation to ensure your property truly is free of any long-term water damage.
In addition to mold removal, the flood cleanup crew handle water damage repairs ranging from roof repairs to carpet removal. No matter what's broken, they will fix it. The ultimate goal of every water damage restoration job is to leave your property feeling better than new. We don't want today's water incident to be just another property disaster. We want to turn it into an opportunity for a Fresh Start.
Call 911 Restoration of Charleston and let our water damage restoration and mold removal experts show you the possibilities. 
How Much Will I Get Paid For Water Damage From Insurance?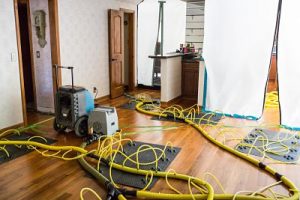 When you know how extensive water damage restoration and mold remediation can be, the question of cost can feel overwhelming. Take a deep breath. We're here for you.
Not only does 911 Restoration offer affordable pricing, but the flood cleanup staff also support you with a free insurance consultation. You don't have to struggle to figure out if roof repair, mold inspection, and mold removal are covered in your plan. The experts will work that out for you, so you can go into the water damage restoration process well aware of what to expect.
Our staff even helps you out with paperwork. They assist with inventory and loss itemization. They file your claim for you. And they bill your provider directly, so you don't have to give those costs a second thought.
A pipe burst or other water disaster can be an overwhelming nightmare. Just remember: you're not in it alone. For knowledge, compassionate water damage restoration in Ladson, call 911 Restoration of Charleston. Relief will be there in 45 minutes or less.
Servicing the cities of Adams Run, Awendaw, Aynor, Beaufort County, Berkeley County, Bethera, Bonneau, Charleston, Charleston AFB, Charleston County, Cross, Dorchester, Dorchester County, Edisto Island, Galivants Ferry, Georgetown, Goose Creek, Green Sea, Grover, Hanahan, Hollywood, Huger, Isle Of Palms, Jamestown, Johns Island, Ladson, Little River, Longs, Loris, Madison, Mc Clellanville, Moncks Corner, Mount Pleasant, Murrells Inlet, Myrtle Beach, Nichols, North Charleston, North Myrtle Beach, Pawleys Island, Pineville, Pinopolis, Ravenel, Reevesville, Ridgeville, Russellville, Saint George, Saint Stephen, Seabrook, Sullivans Island, Summerville, Wadmalaw Island, and surrounding areas.