Mold Removal in Charleston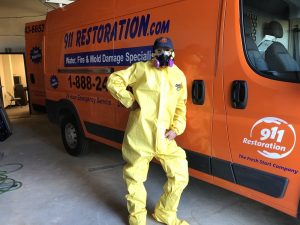 There is no such thing as harmless mold. Whether it's pipe mold, an infestation spreading across your ceiling, or growth hiding within your walls, prompt mold remediation is the only way to prevent costly damage and preserve your health. Fortunately, if you need mold removal in Charleston, your best ally is one easy call away. 911 Restoration of Charleston is staffed with highly skilled, IICRC certified mold cleanup specialists. This crew can handle every one of your mold remediation needs, from the initial mold inspection to structural damage repairs.
If you've been putting off mold decontamination, it's time to bump that item to the top of your to-do list. In nature, mold is tasked with the job of decomposing organic material. The fungus doesn't know how to behave any differently in your home, meaning a mold infestation can cause serious destruction to your walls, ceiling, and floors. The good news is that mold cleanup is as simple as calling 911 Restoration. Once you reach out to our friendly mold remediation crew, they take care of the rest.
Our professionals have a lot of experience with mold removal in the Charleston area. Between the wet weather and muggy summers, local property owners are constantly battling mold. The crew at 911 Restoration recognize the ongoing struggle, and they do all they can to prevent future infestation with structural dehumidifying. They also take great care to remove your mold completely and without spreading an excess of spores throughout your property.
Mold is ugly, unpleasant, and can make your home or business feel unfamiliar and unsafe. Let our mold remediation experts make your property yours again. Call 911 Restoration of Charleston and prepare to breathe easy.
Full Service Mold Remediation In Charleston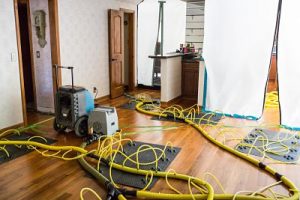 Many property owners mistakenly think mold removal is a process they can handle themselves. After all, they've conquered mildew and other unsightly blemishes. 
The truth is, mold remediation is an extensive process that requires a professional skill set. Because mold reproduces so easily, a certified mold cleanup specialist is needed to handle mold removal in way that also reduces the risk of spreading spores and giving rise to a repeat infestation. Not to mention, different species of mold require different removal techniques. 
When you choose 911 Restoration for your mold remediation needs, you call on professionals who are truly equipped to handle the entire process from beginning to end. These specialists begin with a thorough mold inspection to identify the type of growth and create an effective plan for mold removal. Once they've gotten rid of the colony, they proceed with structural dehumidifying to prevent future growth. 
911 Restoration believes in turning a property disaster into an opportunity for a Fresh Start. Our mold cleanup crew approach your infestation with the goal of leaving your property in better-than-new condition. If your ceiling is stained, your drywall is weak, or your wallpaper is crumbling, you can bet these professionals will repair the damage.
Mold decontamination is more complicated than you may have realized, but the important thing is that you don't have to handle it alone. Contact 911 Restoration for comprehensive, compassionate care.
Toxigenic Mold Experts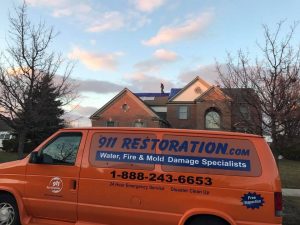 Have your allergies gotten worse? Are you waking up dizzy? Have you been experiencing frequent, unexplained headaches?
The mold decontamination staff often hear from customers who are concerned they have an unseen mold infestation for all of these reasons. Oftentimes, they're right. 
Certain species of mold release mycotoxins into the air you breathe. When you inhale mycotoxins, they collect in your system and create toxicity, leading to a wide range of health problems. If you're concerned you have toxigenic mold in your home or business, there is no need to panic. All you have to do is contact 911 Restoration right away for an expert mold inspection.
The mold inspection staff can identify all the signs of a hidden colony, and they know exactly where to look to find undercover growth. If the mold inspection leads to discovery of an infestation, the mold decontamination experts take a sample of that infestation to a third-party laboratory for testing and identification. This step is important for setting a mold removal strategy.
If you do have a toxigenic mold infestation, your experts take great care to handle mold removal with caution. They know the correct tools and process for preventing the spread of mycotoxins during the mold decontamination process. 
From minimizing property damage to guarding your health, you can be sure 911 Restoration makes your well-being their number one priority. If you're looking for comprehensive mold cleanup and a trustworthy mold inspection in Charleston, look no further. Call 911 Restoration of Charleston now.
Servicing the cities of Adams Run, Awendaw, Aynor, Beaufort County, Berkeley County, Bethera, Bonneau, Charleston, Charleston AFB, Charleston County, Cross, Dorchester, Dorchester County, Edisto Island, Galivants Ferry, Georgetown, Goose Creek, Green Sea, Grover, Hanahan, Hollywood, Huger, Isle Of Palms, Jamestown, Johns Island, Ladson, Little River, Longs, Loris, Madison, Mc Clellanville, Moncks Corner, Mount Pleasant, Murrells Inlet, Myrtle Beach, Nichols, North Charleston, North Myrtle Beach, Pawleys Island, Pineville, Pinopolis, Ravenel, Reevesville, Ridgeville, Russellville, Saint George, Saint Stephen, Seabrook, Sullivans Island, Summerville, Wadmalaw Island, and surrounding areas.